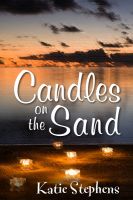 Title: Candles on the Sand
Author: Katie Stephens
Publisher: lulu.com - 19 July 2011
ISBN: 978-1447783701
Print length: 298 pages
Escaping from a cheating fiance and domineering mother Anna runs away to Italy. A wrong turn brings her to San Lavello a small fishing town on the Amalfi Coast. In San Lavello Anna finds happiness, friendship, love and the person she really is.
The beginning of the book was good and promising, the story was exciting ie the main character leaves the big city and goes on an adventure to Italy!
Surroundings are amazing or sound amazing although again lots is left to the reader's imagination!
But as the story was progressing, I just got more bored and I just wanted to finish the book asap.
Highly predictable were the friends opinions, the parents "behaviour", the burgeoning romance. And I don't even want to comment on the amazing skills of this woman to bring back a whole Italian city from the verge of "bankruptcy". Thank God she walked out on her wedding and cheating fiance!!!
*
- for the effort and the Italian scenery